Take an immunosuppressant drug? Read this. Good info to know and keep in mind if you are on certain meds or considering taking them.
I know that for the short period of time that I was on Remicade, my GI doc never stressed the importance of screening for hepatitis, TB.. not even a simple PPD skin test. Actually none of what was discussed in this article was taken into consideration.
Despite evidence to support the importance of vaccinations and prevention of infections in patients with IBD, especially in immunocompromised patients, physicians have done a poor job in this area," said Miguel Regueiro, MD

In one analysis, they set out to determine whether male patients with IBD beginning immunosuppressive treatment received the same information as their female counterparts regarding the potential effect of medications on fertility. Female IBD patients routinely are counseled that some medications may affect conception, pregnancy and teratogenicity.

....the need for physicians to do a better job screening IBD patients for opportunistic infections, vaccinating patients against preventable illnesses and counseling male patients on fertility."
The gravity of latent TB emerging with anti-TNF treatment also needs to be taken more seriously
patients taking adalimumab were significantly less likely to be screened for hepatitis infection than those taking infliximab, Dr. Borum said.
link--> Gastroenterology & Endoscopy News - Physicians Doing 'Poor Job' of Warning Patients With IBD About Risks of Medications, Studies Suggest:
'via Blog this'
Physicians Doing 'Poor Job' of Warning Patients With IBD About Risks of Medications, Studies Suggest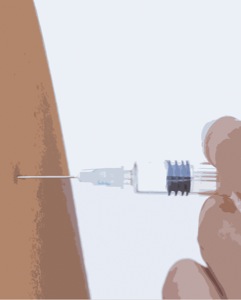 Many gastroenterologists are failing to warn patients with inflammatory bowel disease (IBD) of the possible risks associated with live vaccinations and the effects of IBD medications on male fertility. Clinicians also are not consistently screening patients with IBD for hepatitis, tuberculosis (TB) and other opportunistic infections.
"Despite evidence to support the importance of vaccinations and prevention of infections in patients with IBD, especially in immunocompromised patients, physicians have done a poor job in this area," said Miguel Regueiro, MD, professor in the Division of Gastroenterology, Hepatology and Nutrition and co-director of the Inflammatory Bowel Disease Center at The University of Pittsburgh's Department of Medicine. "In the era of outcomes and reimbursement measured by quality indices rather than quantity metrics, preventative strategies for IBD patients are of paramount importance," said Dr. Regueiro, who was not involved in the research.
Medication-Related Fertility Issues
Marie Borum, MD, EdD, MPH, professor of medicine and director of the Division of Gastroenterology and Liver Diseases at George Washington University in Washington, D.C., and colleagues conducted a series of medical record analyses, examining the rates of compliance with various IBD-related clinical guidelines. They presented their results at last year's Crohn's & Colitis Foundation of America's Advances in Inflammatory Bowel Diseases meeting. In one analysis, they set out to determine whether male patients with IBD beginning immunosuppressive treatment received the same information as their female counterparts regarding the potential effect of medications on fertility. Female IBD patients routinely are counseled that some medications may affect conception, pregnancy and teratogenicity. Although sulfasalazine, methotrexate, thiopurines and anti-tumor necrosis factor (TNF) drugs all have known or suspected effects on male fertility, Dr. Borum's team believed this group of patients may not be fully informed of these effects prior to initiating treatment.
To document their suspicions, the investigators analyzed medical records from 63 male patients with ulcerative colitis and 76 male patients with Crohn's disease treated at their institution between June 2010 and June 2011. Eight patients had received sulfasalazine, three were treated with methotrexate, 36 were administered a thiopurine and 33 had been treated with an anti-TNF agent, all for at least one year.
The findings confirmed the researchers' concerns, showing only one patient receiving sulfasalazine and one patient treated with a thiopurine had a documented discussion with their gastroenterologists about drug-related fertility issues. There were no documented discussions on the topic among those receiving methotrexate or anti-TNF agents.
Dr. Borum said that although some of these discussions may have taken place, they were not documented and the findings, "strongly suggest a need for improved counseling with male patients."
"Although there is limited and potentially conflicting data available regarding medication impact on spermatogenesis and pregnancy outcome, it is important that available information be provided to all patients," Dr. Borum said.
Risks Associated With Live Vaccines
In a separate analysis, Dr. Borum's team found many patients with IBD are not made aware of the risks associated with receiving live vaccines during immunosuppressant treatment.
"Commonly administered live vaccines are given during childhood and often prior to IBD onset, but live vaccines, such as annual influenza and yellow fever for international travel, can be administered in adults," Dr. Borum noted. "These vaccinations are essential in IBD patients, a group at high-risk of infections, but should be administered in their inactivated form."
Dr. Borum and her team analyzed medical records from 141 IBD patients receiving immunosuppressant drugs and found no documented discussions with patients advising them to avoid live vaccinations. Furthermore, only 15% of these immunosuppressed patients received inactivated influenza vaccinations, as per published guidelines, and most were vaccinated only "on occasion," rather than annually (Moscandrew M et al. Inflamm Bowel Dis 2009;15:1399-1409).
"Appropriate vaccination is necessary to reduce the incidence of preventable disease and reduce mortality in the IBD population," Dr. Borum emphasized. "However, it is imperative that patients receiving immunosuppressants be specifically counseled against receiving live vaccinations because these may be administered by a non-gastroenterology specialist who may not be aware of the risks."
Risks for Opportunistic Infections
The gravity of latent TB emerging with anti-TNF treatment also needs to be taken more seriously, Dr. Borum's findings suggested. Of 44 patients treated with an anti-TNF agent between June 2010 and June 2011, only 66% had undergone appropriate TB screening, including the TB skin test (also known as PPD testing) with subsequent chest x-rays and QuantiFeron Gold testing if PPD tests proved positive.
"Although this study is limited by its small sample size, retrospective design and potential undocumented tuberculosis screening, the findings suggest the need for increased awareness among physicians to universally screen for tuberculosis in all IBD patients prior to and during anti-TNF treatment," Dr. Borum said.
In the same cohort of 44 patients, only 60% and 57% were screened for hepatitis B and C infection, respectively, prior to initiating immunosuppressive treatment, despite recommendations that all patients should be screened for chronic hepatitis prior to immunosuppression. Many infected patients may be asymptomatic, and immunosuppression increases the risk for viral replication and disease progression (Moscandrew M et al. Inflamm Bowel Dis 2009;15:1399-1409).
Although there were no differences in the frequency of screening by age, gender or IBD disease type, patients taking adalimumab were significantly less likely to be screened for hepatitis infection than those taking infliximab, Dr. Borum said.
Dr. Regueiro noted that although the studies were retrospective, small and had a number of methodologic flaws, "they all demonstrated the need for physicians to do a better job screening IBD patients for opportunistic infections, vaccinating patients against preventable illnesses and counseling male patients on fertility."